2: Seoul – what is home
Georgia, after graduating the University of Pittsburgh in 2015, is nearing the end of her second year of teaching English in Seoul, South Korea. Besides teaching, she has kept busy this year, traveling to Vietnam, Taiwan, and around Korea, as well as taking a rigorous Korean language course at the Seoul-based Yonsei University over the summer. We were happy to have her back at Myrtle Beach for our annual vacation this year, although the jet lag can't have been easy. This year for Christmas, we are excited to fly over to spend time with her in Seoul and have her show us her world. As for next year, she is not quite sure where the winds will take her. A trip to China after she finishes her contract is in the works, after which she will return to America, hopefully "for good."
A week or so back, I wrote the previous paragraph for our family's annual Christmas letter. How do you condense a whole year into a few sentences? How do you convey the utter vastness of a year's worth of experiences in a foreign country (or several), but also convey the utter normalcy of everything? How do you put things that are so wildly different from home into terms that even my grandmother could understand? The last post was concerned with what was home. This one is focused on what is home.
My family will arrive here in Seoul in about 10 days. How do you even cram all of those experiences, all the "'essentials,"" into a week and a half?
My friends asked me if I will take my family outside of Seoul, and I rationalized against it (plus, although I don't work for long each day, I still don't have a proper ""vacation"" during that time, so we wouldn't be able to go far.) I think that, even though it's one of the largest cities in the world, Seoul is a pretty accurate microcosm for Korea as a whole. What will you do when they're here, the next question always comes. Foods, drinks, palaces. Noraebang, jjimjilbang. Hikes, if we can manage it. Trying to give a sense how Seoul has both the ancient and modern coexisting right next to one another, nature and high-rises competing for space within the city, and tradition and innovation in the cultural sphere.
What follows is a Cliff Notes version of what to do in Seoul, curated by me, of course.
Food
I think food is central to Korean life for all, foreigners and Seoulites alike. It's unique in that everybody has to choose together what they want to eat, rather than agreeing on a general restaurant and all ordering separate dishes. Most of my days are planned around what's for dinner.
Samgyeopsal – It's well-documented (as I mention it in almost every blog post here) that this grilled pork-belly dish is my favorite meal. It's filling and fun to eat, and comes with enough vegetable side dishes and lettuce wraps to mostly cut through the grease of the pork. If your little lettuce wrap "burrito" bite is well-made, the combination of flavors is nothing short of perfection.
Duk Galbi (닭갈비) – This spicy mixed chicken dish is wonderfully filling, often cheesy, and all of the friends can eat their fill without necessarily feeling like dying at the end of the meal.
Salmon – Technically salmon sashimi, my friends and I are kind of addicted to salmon, especially the "infinite refill" (all you can eat) variety. Usually the salmon comes with tasty sides of mixed rice, beef soup, or raw beef called yuk-hoe.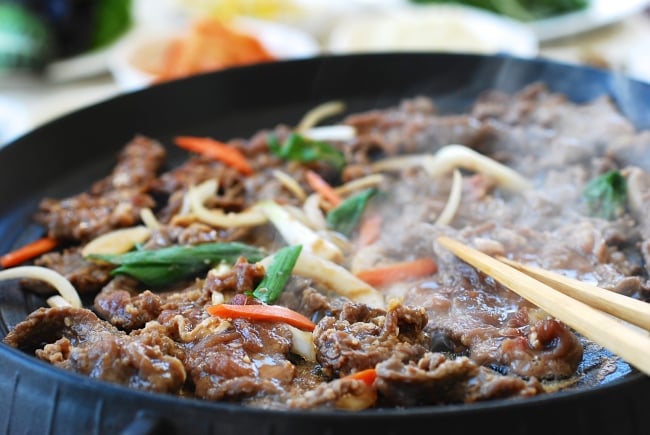 Bulgogi – While this Korean "fire meat" (the literal translation) is gaining popularity, or at least visibility, in the West, I've found that I never really liked it much until coming here. There's a place in my neighborhood that does a wonderfully simple version – just beef, green onion, mushrooms, and japchae glass noodles – that is perfectly filling and definitely worth scalding the roof of your mouth for.
Kimbap restaurant – These restaurants, described to me as the "McDonald's of Korean food" when I first got here, serve so much more than just kimbap, the Korean answer to sushi. In fact, I find them closest to an American-style diner: open 24/7 and serving a wide range of food from snacks to full meals. This is the best place to try a "little bit of everything" without making the commitment of going to a dedicated restaurant for each dish.
Budaejjigae – This Korean "army stew" came out of frugality during war times, originally: the American soldiers stationed in Korea would give their extra food, like packets of ramen, Spam, and hot dogs to the Korean citizens, who would then whip it up into a filling and flavorful stew with kimchi, rice cakes, tofu, and whatever veggies they wanted. Everyone tends to favor different parts of the stew, so there's usually little fighting over who gets the spam or hot dogs.
Samgyetang – A dish traditionally eaten during the summer, this whole chicken, ginseng root, and jujube soup is supposed to be very good for your health. Even though it's supposed to only be around in the summer, the dish most closely resembles American chicken noodle soup, making it good for winter, too.
Mandu – It might not be my favorite food, but there's no denying that the traditional Korean-style dumpling, often filled with cabbage, noodles, and meat and veggies, is one that is important to everyone's daily life here.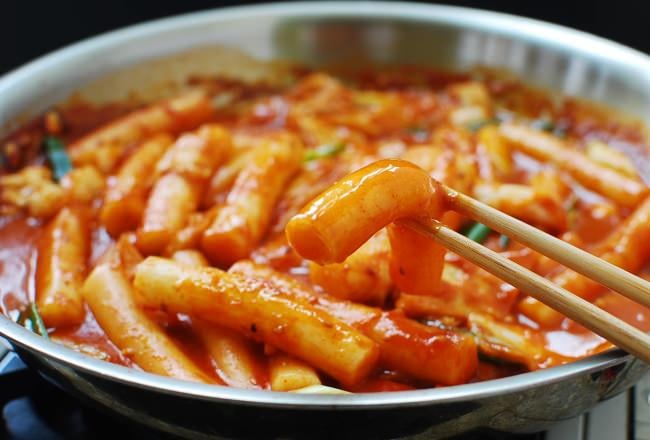 Ddeokbokki – These rice cake dumplings in a spicy sauce can be at times a wonderful side-dish to your meal, a cheeky drunk food on the street, or a meal by themselves. My first week here, without even any chopsticks to eat with, I got a ddeokbokki from the stall near my house and took it home to eat sitting on the floor.
Hoddeok – These brown sugar and nut-filled pancakes are the most delicious dessert you can crave in the winter here in Korea. I know that there are also savory varieties, but the sweet one is the only one I go for. However, the scalding brown sugar dripping from the pancake can turn into a deadly weapon if you're not careful.
Drinks
Equally important to life here is drinking, maybe even more important. Almost every person here at any given time will either have a coffee, tea, or alcohol in their hand.
Cafes – My love of Korean cafes is also well-documented. Before I came here, I made a resolution to try at least one new cafe a week. The real average is probably closer to 1.5 or 2 new cafes a week. There's a cafe for all tastes, whether you crave a quiet place to camp out and study, a pretty dessert for your instagram, or a kitchy environment that captivates your interest.
Makgeolli – Many people abroad know what soju is by now, but really, Korean rice wine makgeolli is my jam. A traditional drink after hiking or when it's raining, it's a hard sell for some. It's tangy like a soda but a bit milky like a yogurt, usually drunk from a bowl, and makes for a perfect accompaniment to pajeon, the green onion pancake. After trying all different kinds, I can say with absolute confidence that I prefer makgeolli to soju.
Soju – There's no denying soju's reign as the most popular alcohol in the whole world. How else could you get completely trashed off of $4 USD's worth of alcohol? That it comes in different flavors (my favorite is the "toucan soju"), certainly makes it more palatable to many more foreigners. The unflavored kind pairs well with beer, cider, and other things.
Beer & other things – That Gordon Ramsay endorsed Cass beer was an unfortunate debate topic for a few weeks, but it makes sense: you need a smooth, relatively flavorless beer (water-like, almost) to wash down the strong and spicy flavors you're consuming. Everybody here, Korean and foreign alike, has their favorite "mix": somaek, the most common soju and beer mix, soju-cider-beer mix, soju-beer-cola mix, or even soju mixed with the yogurt drink that they give to children. (My favorite is soju, cider, and beer in equal measures).
Traditional Seoul
Some things haven't changed much in decades. You get the sense that the same noraebangs and jjimjilbangs have stuck around for years and years, the old tried-and-true standbys of Korean life.
Noraebang – Again, my love for noraebang is no secret. The singing room is a cheap and fun way to while away an hour or two while waiting for the train to start up, or keep the party going when everybody's a little too drunk to keep dancing but doesn't want to go home yet. Most people sneak their own drinks or snacks in, and the theatricality of the lights and secluded room really call to me. (It's also been suggested to me that I only like the sound of my own voice, which.. no comment). You better bet I'm going to spend this New Year's the same way as last year, singing in a noraebang and drinking toucan soju.
Jjimjilbang – The Korean-style bathhouse was unlike the Japanese-style I knew about previously. You get a little gym uniform and some towels and go into salt-, charcoal-, or crystal-bedecked heated rooms to sweat out your impurities. You can rest from the heat in the cold room or in the middle room, where many people take a snooze, read magazines, or eat hard-boiled eggs. When you can't take the heat anymore, you go into the bath area and scrub off all your skin at least three times with a rough cloth, then dip into the baths. Lots of foreigners are weirded out by the nudity (even though it's segregated by gender), but as a swimmer I don't find it that weird. At the end you truly feel like you've got baby skin, and it's quite the treat in the winter.
Hiking – "What, you like hiking? I never noticed," said nobody, ever. I think that the hiking culture is one of the best representatives of Korean culture as a whole. The healthy practice of hiking mixed with the unhealthiness of drinking at the top of the mountain, generosity with individualism, the tradition of monks and priests walking into the hills to meditate balanced with the modernity of taking all the selfies at the top. Everyone says "hi," in a mixture of Korean and English, and wants to help you get where you're going. Young kids hiking with their parents, couples, and old people all coexist happily on the mountain. (We will probably not get to go hiking because it will probably be too cold in a few weeks' time.)
Palaces – Seoul's palaces are a well-known fount of history knowledge for foreigners and Koreans alike. Although there are many palaces in Seoul, two very close to one another are my top picks. While I think that most foreigners know about Gyeongbokgung, the main royal palace, I argue that Changdeokgung is the best palace to visit in Seoul, as it is larger and more well-preserved (and also a UNESCO World Heritage site).
Modern Seoul
Sitting right alongside the many centuries of strong tradition are the modern high-rise skyscrapers and other amenities of city living. Arguably the best transportation system in the world gets millions of Seoulites from place to place every day and anything you can ever want is available at the touch of a button.
Malls – Boy, do Koreans like to shop. Clothes, electronics, homewares, everything. While there are lots of malls in the recognizable Western sense, many more are underground in subway stations or under other buildings.
Libraries – Speaking of shopping malls, there's a huge library inside of a mall in Jamsil area. I haven't gotten to go yet, but I'm eager to take my family, all avid readers, to see what all the fuss is about.
Lotte World Tower – The new tallest building in Korea, this tower, well, towers over the Seoul skyline. They were just building it when I got here, and now you can ride up to the top to get a view of all of Seoul (although in my opinion, the view from the top of a mountain is better, and more well-earned). I use this building as a weather gauge each day when on my commute to work: if I can see the tower from the river, the smog isn't too bad, if it's obscured, the air quality is pretty bad (and certainly should not run in that weather).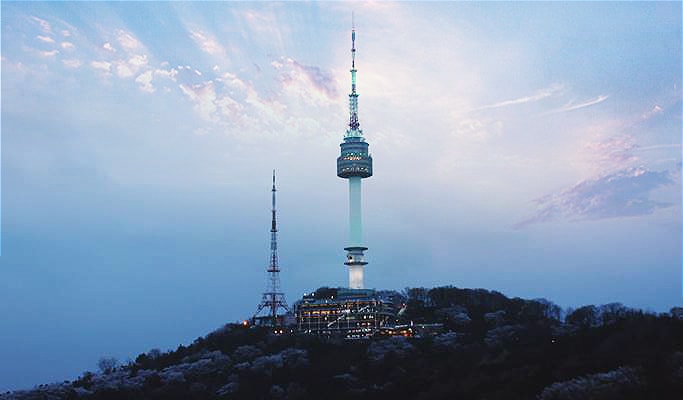 Namsan Tower – The former most famous tower in Seoul, Namsan tower is a common place for young couples to go and put a "love lock" up on the fence. You can hike up the mountain (not recommended, but that's what I did, and on the way I met an opera-singing Italian man who was part of an international biking team), take a cable car, or bus to nearly the top. It may be a little overrated, but it's still a cute way to see your Seoul vista if you don't want to hike.
Movie Theaters – Movies are something else here in Korea. While it's a common and almost mundane part of American life, movies here retain their special-ness. You can see a 4D movie that rocks and shakes your seat or get a set that includes beer, coffee, or dried squid. I'm excited that we might see the new Star Wars soon on the big screen.
Museums
My family is also a big museum-going family, so besides some palaces, no trip would be complete without at least a little bit of outright ""educational"" experience.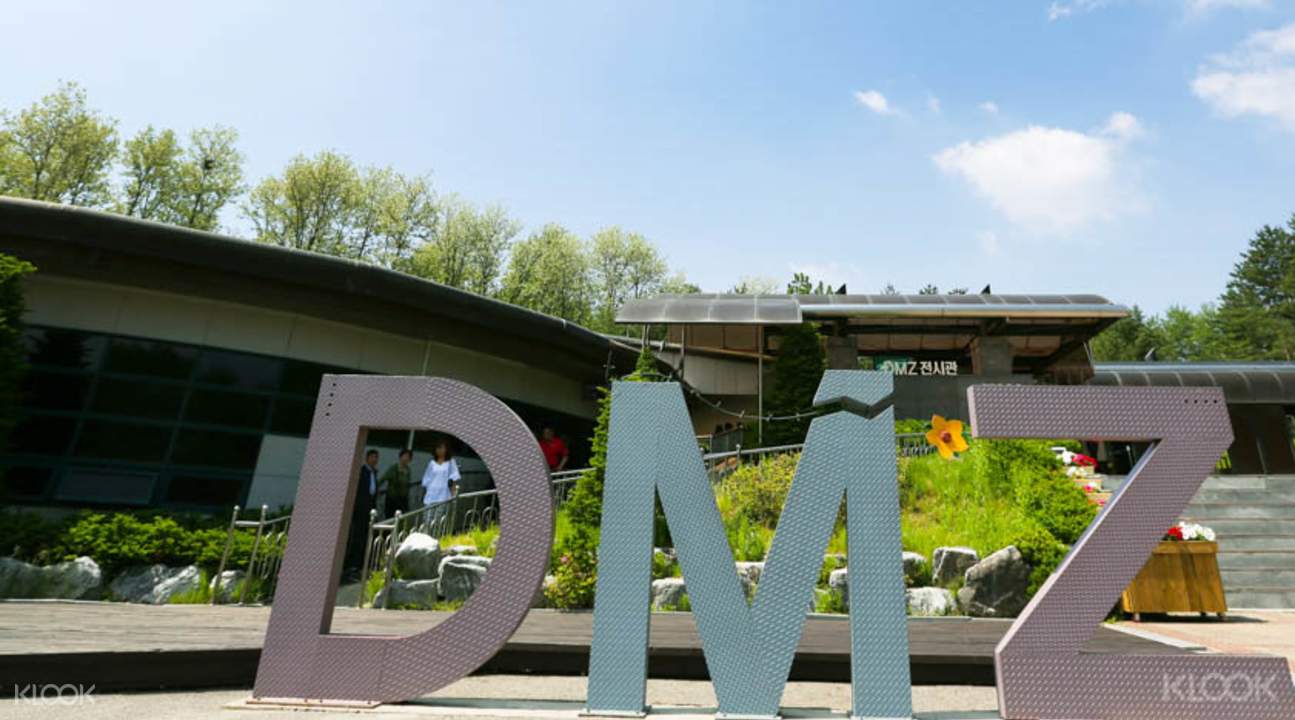 DMZ tour – Not for lack of desire, but rather all of my friends are either Americans who had already done the tour before, or non-American citizens who don't care much to be so close to the North Korean border. It seems almost a rite of passage for many Americans who visit Korea to go on a tour like this.
Arario Museum – Located between Gyeongbokgung and Changdeokgung Palaces, I found this modern art museum quite by accident. It's in the most unique building, and the maze of exhibition rooms are fascinating. It combines a modern glass building with traditional Korean hanok-style building and a 1970s office building with art pieces that really make you think. I've been twice already and can't wait to go back. After you're done with the art spaces, you can catch a coffee, dessert, and an art magazine in the museum cafe, which has a great view of the busy city life outside.
Neighborhoods
It's hard to describe Seoul like other cities (like, say, Rome), where you have a checklist of things to see that are clearly defined. For me, Seoul is more a collection of unique neighborhoods to be strolled through at your own leisure. Each area has its own specialties and its own history, its own flavor. I usually go to different areas for different purposes, but find other reasons to stay.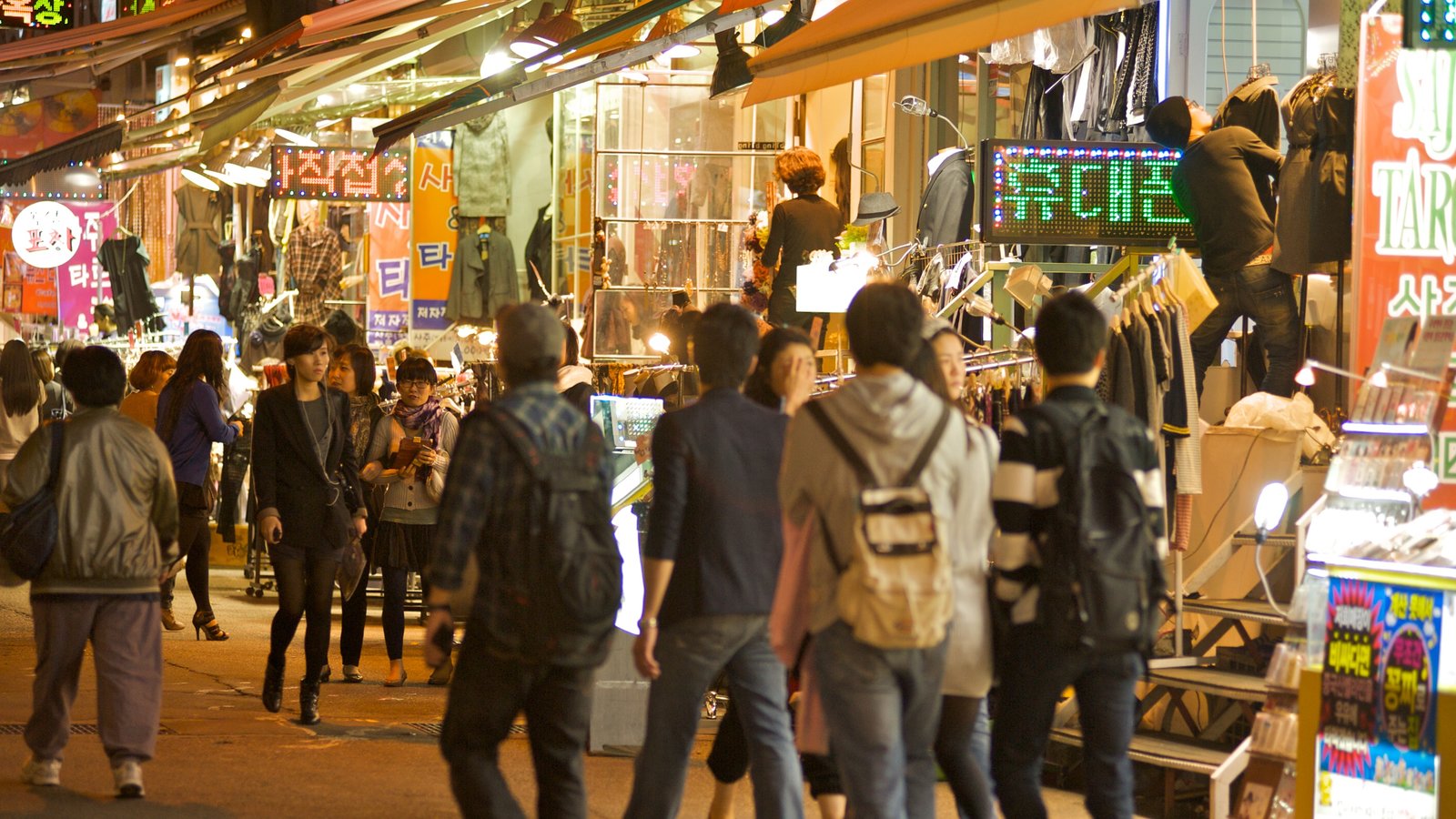 Hongdae/ Sangsu – My current home neighborhood is a young university-age area dripping with cafes and cute boutiques. I find it hard to go other places when everything I need and all of my favorite bars and restaurants are now within walking distance of my house. Hongdae is a hopping nightlife area whereas Sangsu is more of the quiet restaurant area.
Insadong, Bukchon, Samcheong-dong, Gyeongbokgung – There's a long walk that I like to do through all of these neighborhoods, and in it, you can take in the traditional arts-and-crafts street of Insadong, the boutiques and street food of hanok-lined alleyways in Bukchon, or the high-end shops of Samcheong-dong all in one walk. I could never give directions on this walk, but some of the best restaurants I've discovered in Seoul have been found on these walks.
Gangnam – I roll my eyes, but no trip to Seoul would be complete without taking in Gangnam's high-rises and bright lights, and yes, even the "Gangnam Style" sign that put South Korea on the map for most Americans. Gangnam may be expensive and crowded but it is quintessential modern Korea.
Itaewon, Noksapyeong, HBC – The cornerstone for most foreigners in Korea is Itaewon. I have spent many a weekend drinking there, and many of the best restaurants I know of are in this area. My favorite cafe in all of Seoul is located in the quieter hillside area of Noksapyeong, and some really excellent restaurants line the quiet "kimchi pot" street of Haebangchon, usually known as HBC. Nestled right next to the U.S. army base, many foreigners work and play in this area, which makes it comforting in some ways and more dangerous in others.
DDP/ Cheonggyecheon – The Dongdaemun Design Plaza (DDP) is such an amazing sight, hovering like a spaceship in north central Seoul. Housing exhibition spaces, special events, and a design "market," DDP is a celebration of modern creative thought. Within spitting distance of DDP are many Korean-style shopping malls (cheap clothes, no changing rooms), boutiques, movie theaters, and the Cheonggyecheon stream, which I first heard about when my urban planning-major friend, Earl, did a project on the excavation of the stream from underground and its elevation into a public park. At present, there will be a Christmas light festival going on which we will visit.
Myeongdong – Quite frankly, Myeongdong stresses me out a lot, but it is the most typical and famous shopping street in Seoul. Geared towards mainly foreigners, the shops are always blaring k-pop songs and trying to get you to come in. The street food stalls are wonderful here and it's always busy and bustling. The most famous church for foreigners is also located here, but it's a bit hard to find if you don't know what you're looking for.
Well. That concludes the Cliff-Notes. I'm not sure if it was short or concise at all, but it's hard to keep in my enthusiasm sometimes.
A toast, to introducing new people to old things that you love.